Subway
Super Bowl Vault Experience
The Mill teamed up with Subway to provide a complete visual fx journey to help launch 'The Vault,' an exclusive menu on the Subway app and Subway.com with five all-new sandwiches created by some of today's most notable sport stars. 
The Mill partnered with experiential agency Momentum Worldwide to craft an eye-popping experience that puts its viewers in the middle of imaginative sandwich worlds.
The Mill collaborated with a crew of musicians, composers, and sound designers at the acclaimed audio house Antfood. They created a sonic journey that was as rich and imaginative as the visuals. The experience features Subway's new sandwiches in The Vault, created by NFL star athletes Trevor Lawrence and Russell Wilson and narrated by ~ none other than "Beast Mode" sub creator himself, Marshawn Lynch.
The fully immersive experience took place during this year's Super Bowl activation week as part of the Los Angeles Super Bowl LVI Fan Experience. The Subway Vault included a physical space that featured a large-scale video installation and a seven-channel, 360 audio experience.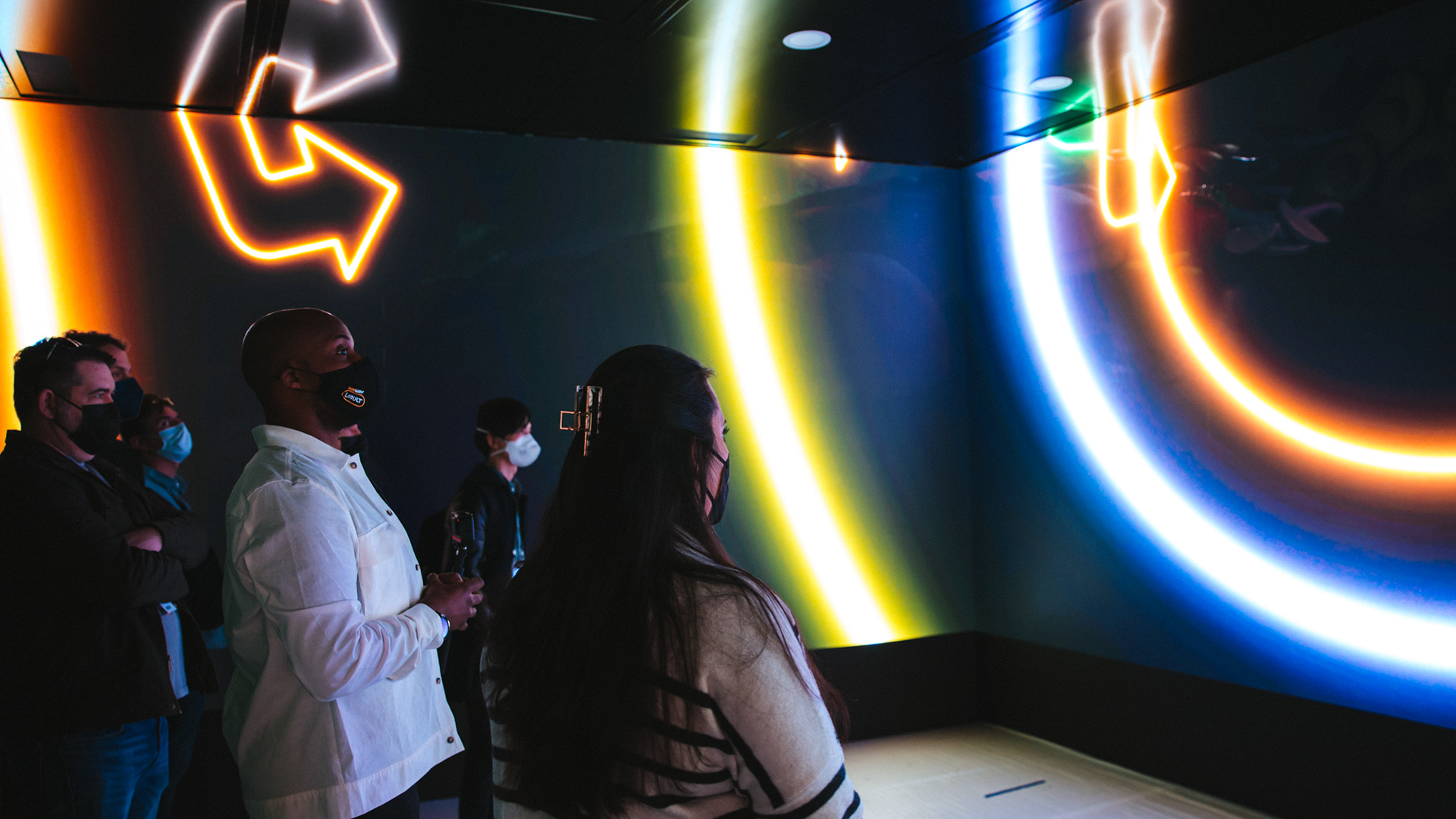 "What we created for the Subway Vault Experience takes inspiration from the classic roller coaster and theme park rides, giving its viewers a first-person perspective as they twist, turn, and speed through palm trees, avocados, and an asteroid belt of flying pepperoni."
The final visuals were rendered with a 360-degree CG camera, allowing for the CG to literally "surround" the viewers while playback was projected across three large-scale LED screens.
Look Development

&

Process
Activation Week

Super Bowl LVI
​​​​​​​
Client: Momentum Worldwide
VFX: The Mill
Director: Donnie Bauer
Creative Director: Donnie Bauer, Dan Giraldo
Executive Producer: Jenny Lumpkin
Producer: Janel Naumann
Technical Director: David Rowley
Design Lead: David Rowley
2D Lead Artist: Dan Giraldo
3D Lead Artist: Steve Eisenmann
Storyboard Artist: John Singer
2D Artist: Vi Nguyen, Alex Koester
3D Artist: Tom Allen
CG Artists: Deepak Kumar, Naveen Srinivasan, Sri Lahari Valmikam, Shubham Baliram Kore, Veda Prashanth Bheemaraju, Vijay Mohan, Vijay Mohan, Kailash Prasad, Madhusudan Patel, Manthena Sainitesh Reddy, Shashanka Sekhar Beshra, Jai Prakasha, Amit Das, Kailash Prasad
Pitch Artists: Chris Keramidas, Greg Mawicke, Thanos Kagkalos, Kevin Sanchez, Brody Davis
Designers: Alex Liou, Vinnie Thomas, Devin Hayes, Shawn Li, Dan Darling, Austin Marola, Justin Weiss, Kevin Sanchez, Vitaliy Yakin
Production Coordinator: Sabah Khan
Storyboard Artist: John Singer
Editor: Spencer Wehde
Edit Assist: Taty Garcia
Colourist: Oisin O'Driscoll
Colour Assists: Alex Frankland, Cristina Giribets
Music Composition & Sound Design: Antfood
Executive Creative Director: Wilson Brown
Executive Produer: Sue Lee
Creative Director: Yuta Endo
Senior Producer: Trevor Haimes
Composers: Yuta Endo, Dalton Harts, Joshua Heath
Sound Design: Yuta Endo, Spencer Casey
Production Coordinator: Charlie Blasberg​​​​​​​